Are you Frustrated that you aren't Getting Fit, Toned or Losing Weight despite skating regularly?
Are you developing bad habits like pronating edges, a short glide or a V-ing Setdown?
Are you feeling pains in your ankles, knees or feet after a certain amount of skating?
Any of these could mean your general skating technique is a bit "off" and something needs tweaking.
I can help you (individually or in your Group) identify exactly which parts of your skating need attention and quickly, systematically eradicate those errors and replace them with correct practice. You'll see and feel differences almost immediately.
A student said recently it was like "waking up" to what's really going on with your skating….
Let me help you to Skate Well (graceful, relaxed, effortless, smooth and powerful), while also Improve Your Fitness.
Let me help you Train in a way that actually Strengthens your Lower Body Muscles (that's Legs, Glutes, Back, Abs and Core). You can tone and sculpt your body by doing these Exercises on skates which simultaneously improve your technique, making you safer and eventually faster.
"Asha, you've probably done more to better the health of the nation than our current government".
– Liam Andrews, UK
The MAJORITY of skaters can skate, but they skate badly (pronating edges, V-ing set down, inefficient backwards Push, Toe Flick, unstable at higher speeds, no endurance to name but a few).
Skating badly increases the risk of falling and being injured by poor technique (especially foot, ankle, knee and lower back problems that develop more slowly over time).
Only when you skate Technically Better will your Skating feel Comfortable, give you Fitness Benefits and look like you know what you're doing.
Choose your Level;
I used this Video Course to teach a group of Disney actors in Argentina. I sent them this List of Video Exercises as a "Starter Pack" to get the actors skating properly. Then I taught them to dance on skates. See how they are doing on "Soy Luna".
So Here's  exactly what's included in "How to Skate for Fitness"
Video Training Course Series.
You'll instantly have access to the Training Lesson Videos;
Choose between Beginner Basic Stride, Intermediate Fitness Stride, Advanced Double Push or the special 3 Course Package.
Each Exercise is shown using detailed;
Demos and Explanations for each Lesson

Focus Points (with animated graphics and diagrams for extra clarity)

Common Problems for each Exercise

How to Fix them

Total Course Video Footage (Beg 42 mins, Int 47 mins, Adv 48 mins)

You'll get a Downloadable 'Practice Exercise Summary' List (for easy on-skates reference).

You'll also get a Downloadable "Focus Points" List which will allow you to "be the instructor".
Each of the 33 Lessons will give you valuable training material to keep you busy for hours, weeks or even months depending on your current skills mastery.
This Training Sequence is carefully ordered so that you gradually develop the necessary skills correctly and in a safe, logical order.
"My friend and I are using Asha's Online Course together to train our Fitness Stride for the Berlin Marathon in September. So far so good. I'm noticing that my leg and back muscles are not as strong as I thought and the exercises are challenging but I feel them working."
"It's way more fun training together than alone."
– Dietmar Reuschel, Germany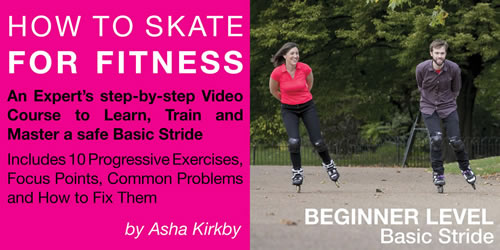 How To Skate for Fitness


Beginner
$39.99
Register
Basic Stride
Exercises No 1-10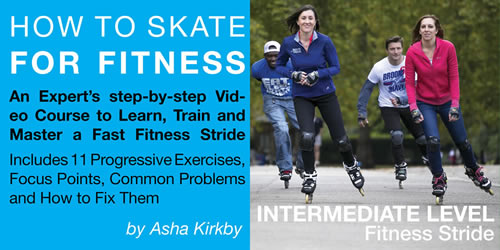 How To Skate for Fitness


Intermediate
$59.00
Register
Fitness Stride
Exercises No 11-21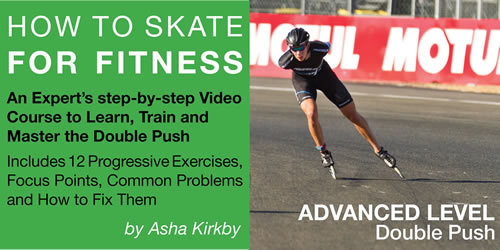 How To Skate for Fitness


Advanced
$69.00
Register
Double Push
Exercises No 22-33

How To Skate for Fitness


Beginner

,

Intermediate

&

Advanced
$149.99
Register
Exercises 1-33
Skate Well, Feel Alive.
Asha Kirkby
P.S. – I can't WAIT to see the progress you make. It's the best part of my job, seeing the improvements in my students and feeling proud of them as I see them happier and more alive.
Photo by Rene Junior
Frequently Asked Questions
Q: What happens after I purchase a course or package?
A: After you submit your order you'll create a username and password for this site. This is where you will access your course in the Dashboard (you will need a working internet connection to access your course). You will also receive an email confirmation of your order.
Q: Can I wait and buy later this year?
A: No. The courses are only available to purchase for a limited period. After that the doors close and wont be open again until next year. There are certain windows in the calendar year that encourage new training and this is one of them. You need to act now in order to make an impact with your skating this year.
Q: Will you make any exceptions for the Registration deadline?
A: No. After CLOSE DATE public enrolment closes for the year. Register now while public enrolment is open.
Q: Are my credit card details secure?
A: Yes. Paypal is a secure payment portal accepting credit card payments and transfers.
Q: Can I get access to the course all at once or will it be delivered in pieces?
A: Yes, you will receive the entire course every time you access it. You can scan the entire course first and then hopefully choose to work through the exercise sequence systematically over several months. You should not be able to do the entire course from the beginning. You will reach a level where the current exercise is very challenging and not yet easy and perfect and that's where you should remain, training ALL the previous exercises to that point. In time that difficult exercise will be mastered and you can then 'graduate' onto the next one in the sequence.
Q: How long will I have access to this course?
A: Forever. Once purchased the material is yours. If you need to make a break from skating you can then return and still access your course(s).
© Asha Kirkby / Skatefresh – All Rights Reserved